When is the best time to buy a home in the Bay Area? [And your 2020 property tax bill is due!]
Posted by Michael Talis on Wednesday, December 2, 2020 at 7:40 PM
By Michael Talis / December 2, 2020
Comment
When is the best time to buy a house? Spring, summer, February, May, tomorrow, last week? A lot of buyers try to time their purchase in order to take advantage of seasonal trends. However, this year has been different in all ways but one – the Bay Area real estate prices continue to grow. But first, a public service announcement.
December 10th is the last day when you can pay your property taxes before penalties will start to accrue. If you own a home in Santa Clara or San Mateo Counties, or anywhere else in California, NOW is the time to mail your check in. And if you have misplaced your property tax bill, you can download a new copy from your county's Tax Collector website.
Back to seasonal trends.
According to a recent article in Inman, a real estate industry news site, the absolutely best two days of the year to buy a home are December 4th and January 26th. ATTOM Data Solutions analyzed 27 million residential home sales across the United States over the last 7 years, comparing AVM home prices (Automatic Evaluation Model) to actual sale prices on particular dates to come up with their findings. To take advantage of these best days, give me a call as soon as possible, we don't have much time to find your dream home!
On a more serious note, here in the Bay Area we typically see two selling seasons. Fist starts as early as February and runs till May or June. The second selling season begins after the Labor Day and ends around Thanksgiving. This year, however, has been quite different. Due to safety restrictions on the local business, our spring sale numbers were quite low, which pushed much of the expected real estate activity into the second half of the year.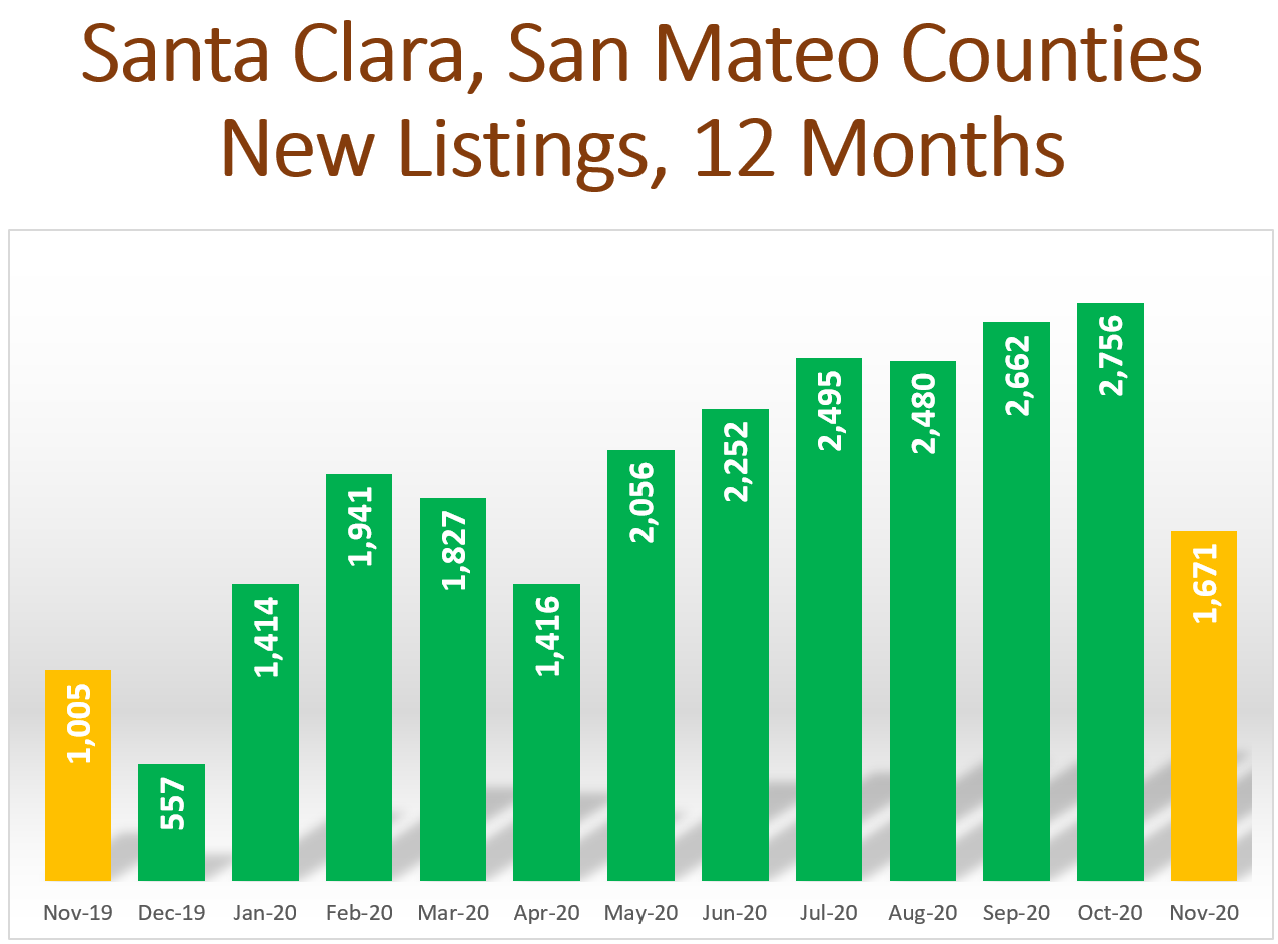 As a result, November was an unusually active month. 1,671 homes were put on the market, a 66% jump compared to last year. Fueled by this influx of inventory, 1,763 contracts were accepted and ratified, a 25% increase from last year's numbers. Ratified contracts are a leading indicator for the real estate market activity because they are predictive of the future sale numbers. It typically takes 30 day from the moment of buyer and seller shake hands to the closing and the new owners getting the keys to the house.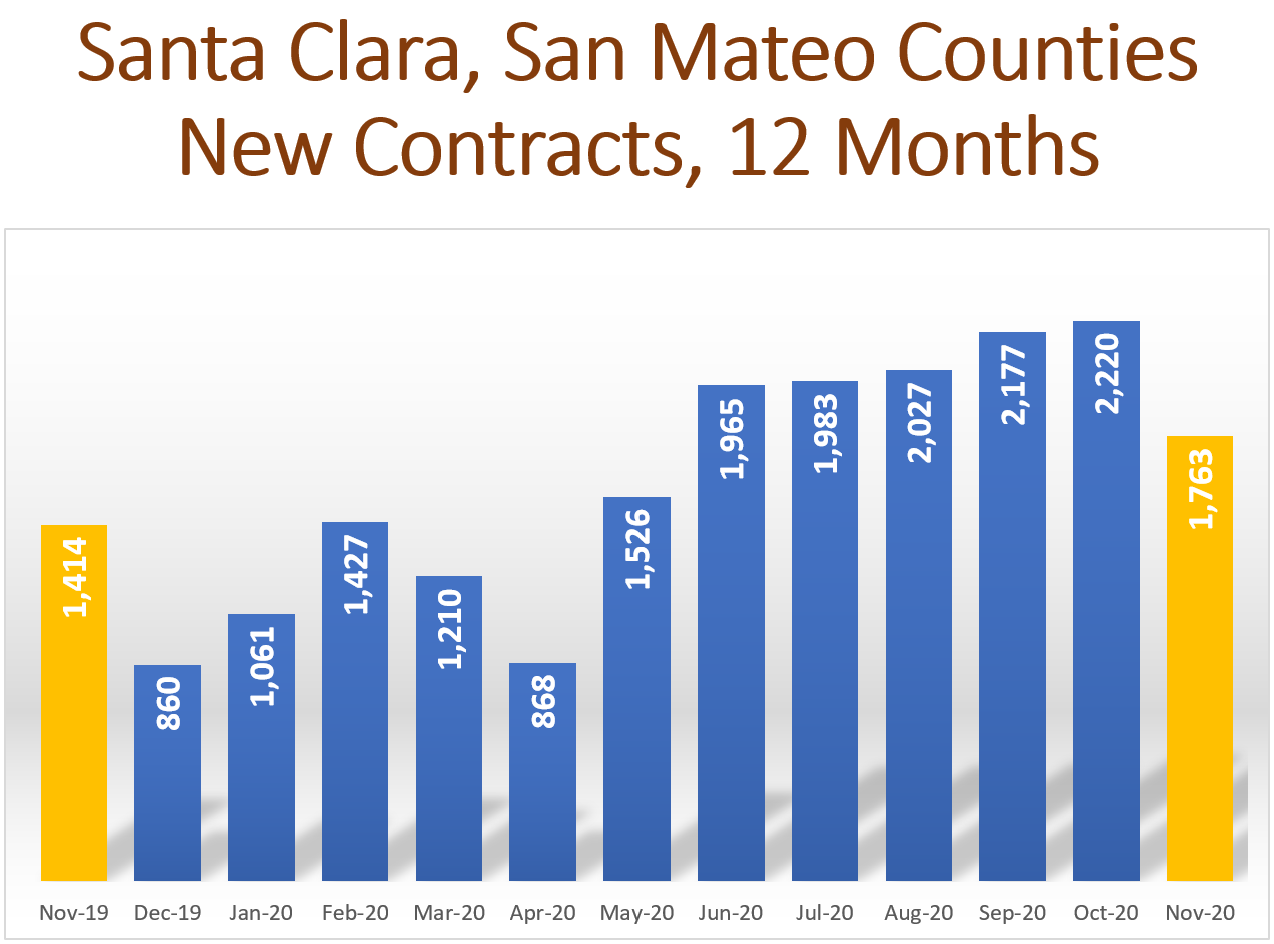 And finally, almost 1900 homes changed hands in November, a 23% increase compared with November of last year. Notice that we had more closings in November than new listings. This drove the inventory of homes available for sale down to 1.1 months, the lowest level since spring of 2018.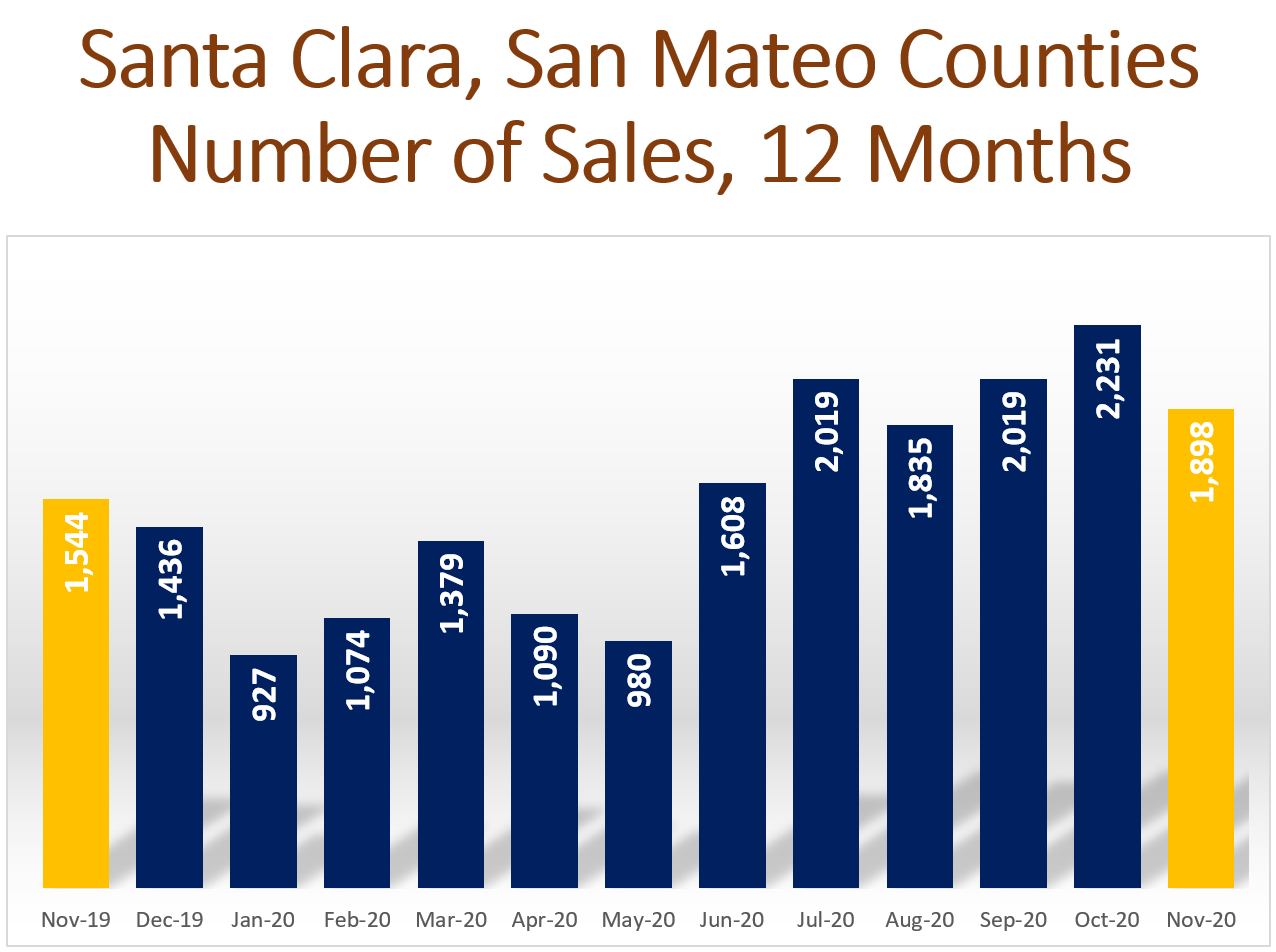 The median November sale price in Santa Clara and San Mateo Counties was $1,265,000. That's a 8.6% jump from November of 2019, though it is a slight decrease from just a month ago in October when the median sale price was $1,301,000, a 2.2% difference.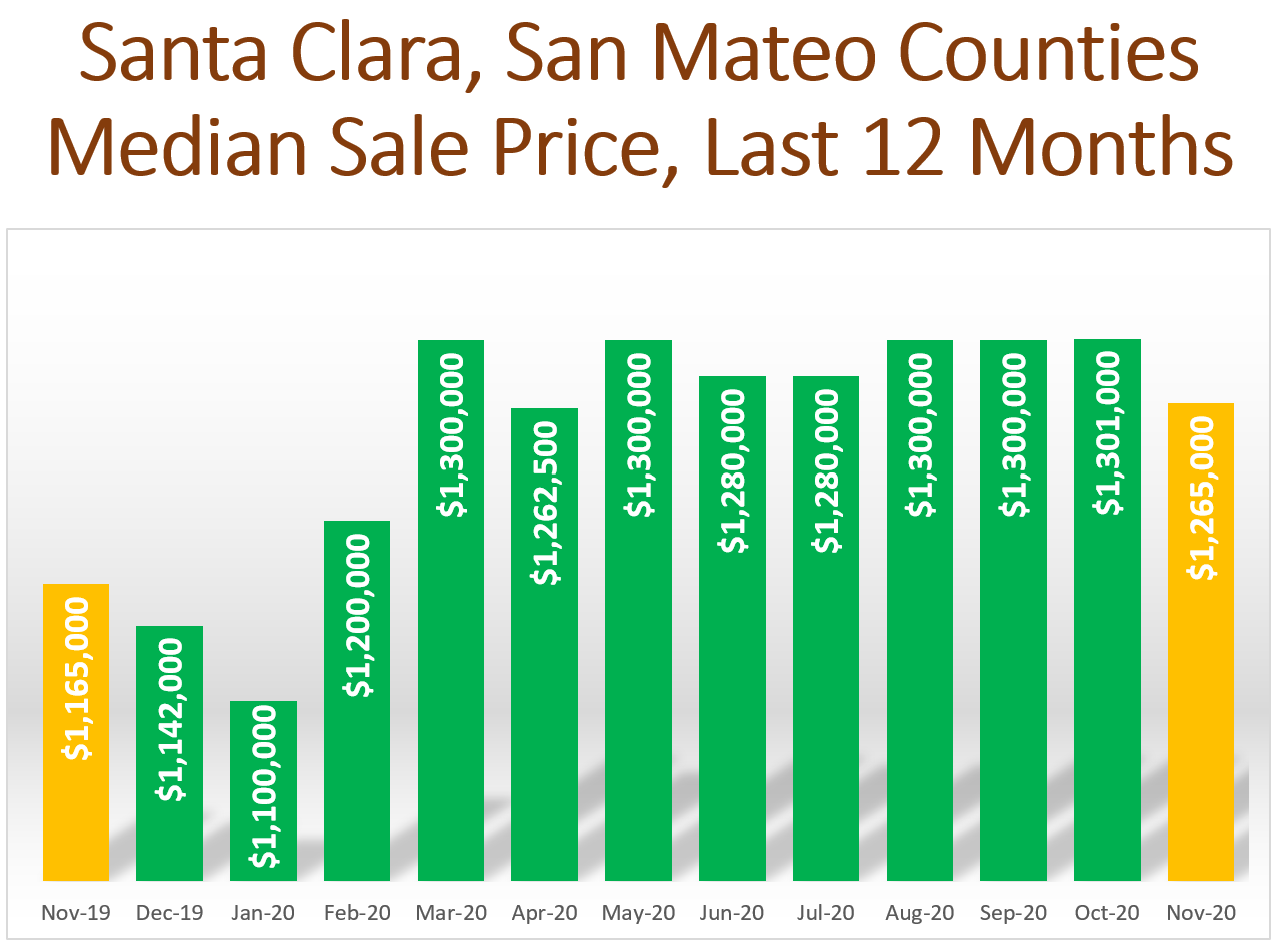 Overall, 2020 is on track to set a new sale price record for the Bay Area. The median home sale price from January through November stands at $1,275,000, a 7.1% increase from 2019 and a 2.2% increase from the previous record set in 2018. It is still a strong sellers' market with half of new listings selling in 10 days or less, and multiple offer situations are commonplace for well-priced and well-prepared homes.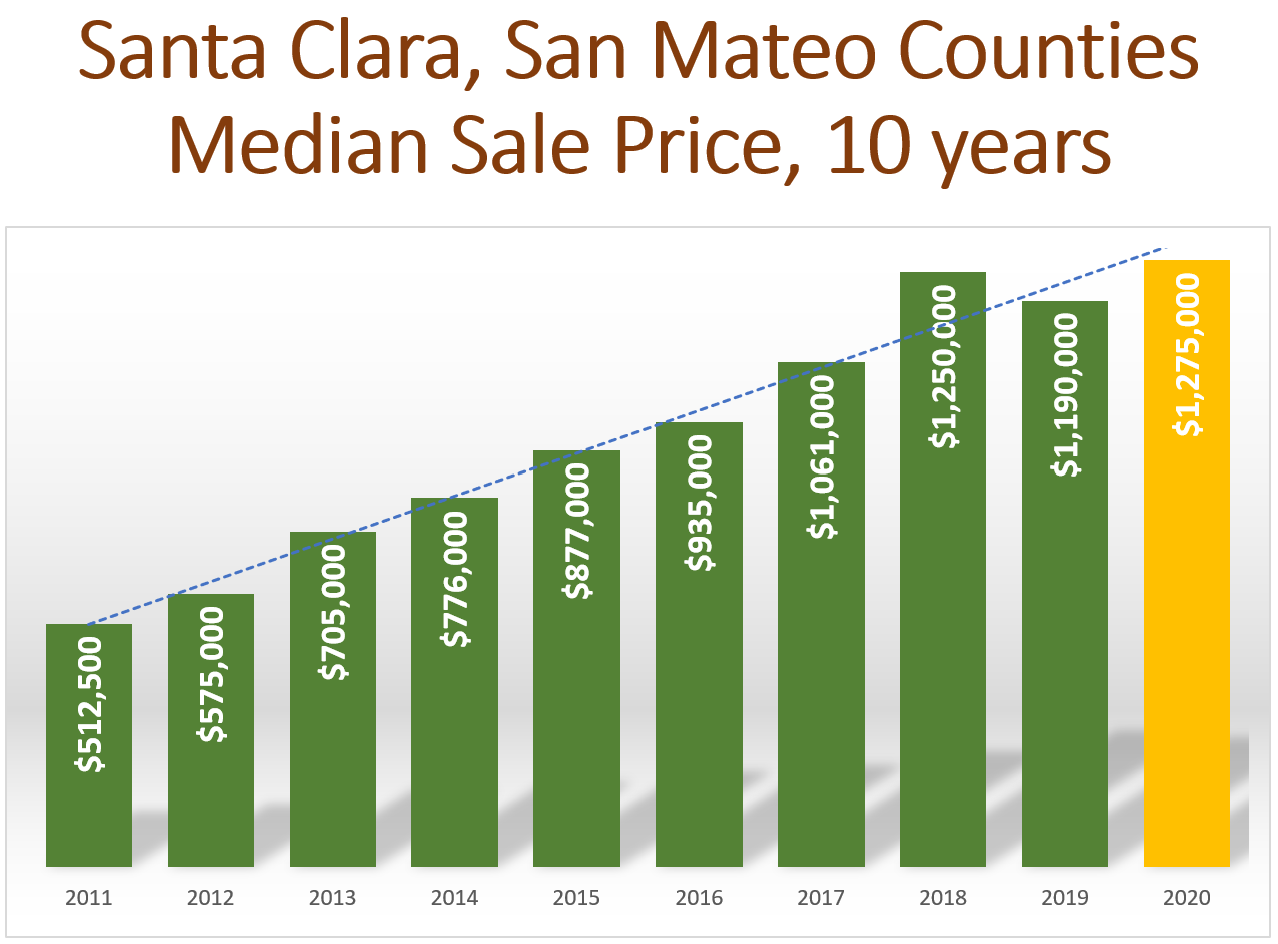 The seller's market also persists in most of the country with inventory declining across the board. According to KCM, Keeping Current Matters, the inventory of existing homes declined to 2.5 months, down from the highest of 4.5 months earlier in May of this year.
We are staying optimistic about the future direction of the real estate market. There is one fundamental difference between the current situation and the years leading up to the 2008 crash – there is much more equity in the market. On top of that, owners borrowed significantly less of that equity compared with 2005, 6 and 7, the years leading to the housing crisis. In this graph you will notice a slight increase in the borrowing this year due to economic hardships. But the levels are not even close to the pre-crash highs.
We work only with a small number of buyers and sellers at a time to be able to provide our 5-star service. Call me or send me a text so we can start planning your next move together!