Bay Area Housing Market Update: Will 2021 Be The Year Of The Buyer???
Posted by Michael Talis on Wednesday, December 16, 2020 at 7:48 PM
By Michael Talis / December 16, 2020
Comment
Will 2021 be the year of the buyer? Will the real estate market finally shift after a 10-year upward run? Let us look at what factors can shift the market across the country and here in the Bay Area.
This year, 2020, was another record-setting year for Bay Area real estate. The median home sale price in Santa Clara and San Mateo counties grew by 7.1% reaching $1,275,000. It is $25,000, or 2%, above the previous record set in 2018.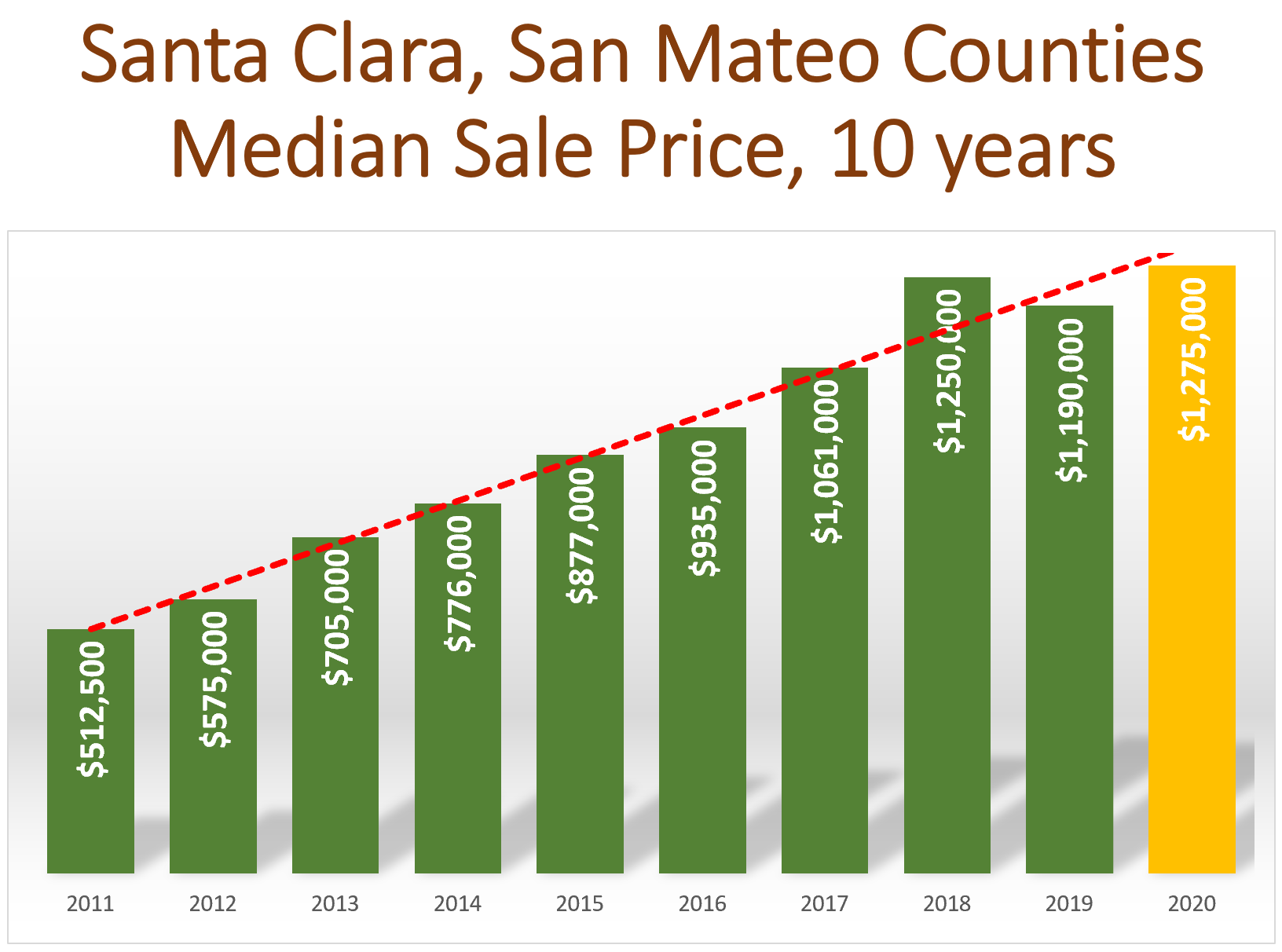 Bay Area home value growth was in line with national numbers. Across the US home prices increased by 7.8% according to Federal Housing Finance Agency, 7.3% according to CoreLogic and 7% according to Case-Schiller.
Growing sales prices in the Bay Area were fueled by shortage of inventory. A little less than 24,000 homes were put on the market in 2020 in Santa Clara and San Mateo counties, a continuation of the declining trend that started in 2009. Keep in mind that more than 40,000 homes were listed for sale each year between 2003 and 2006.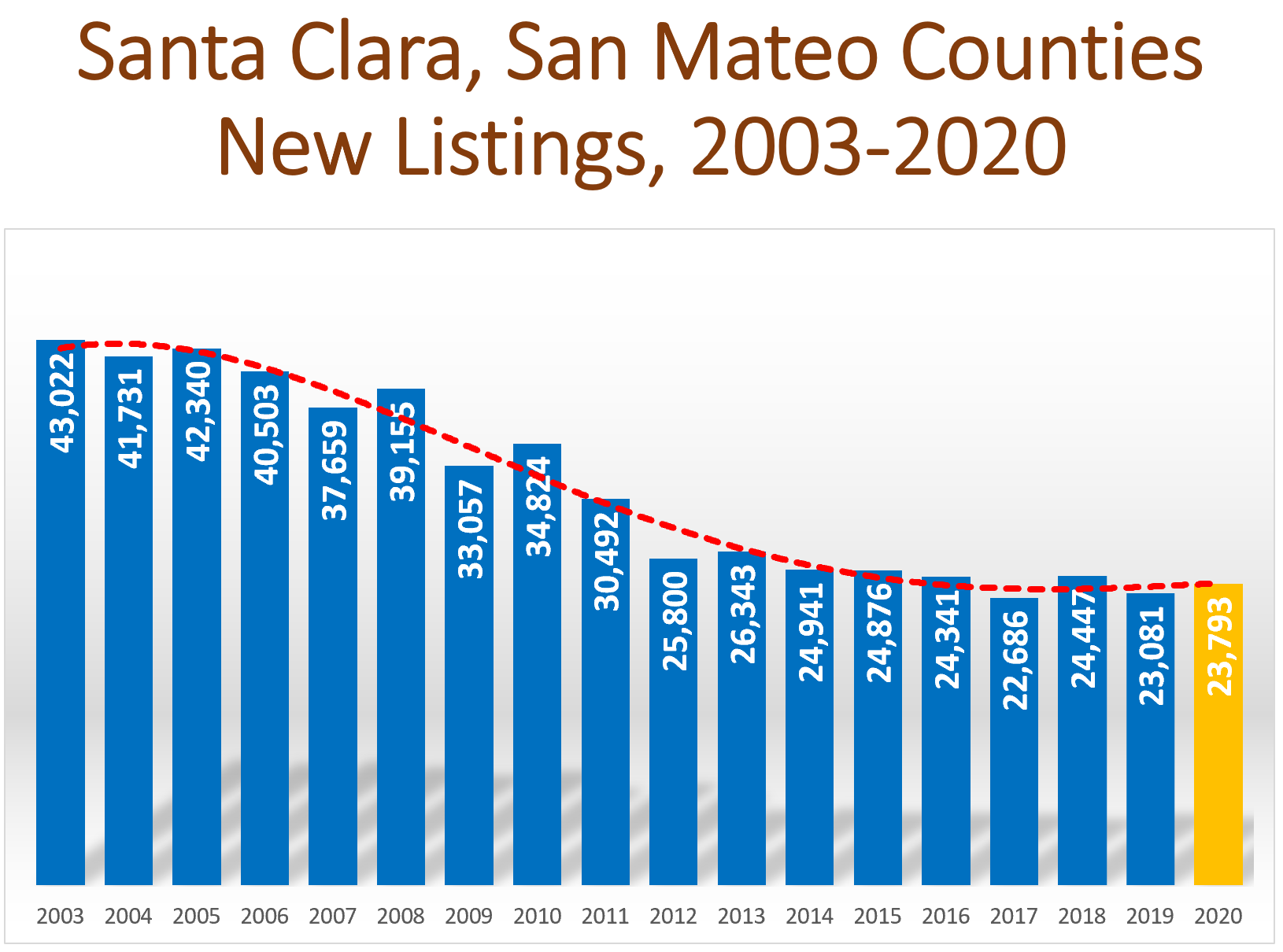 The trend of shrinking inventory was also observed nationally. 3.8 million homes were available for sale in 2006 while in 2020 the inventory stood at only 1.5 million units. The shortage of inventory was amplified by a slowdown in the pace of new construction. There were around 2 million new homes built in 2006 while less than 1.4 million were built in 2020. In the same time period the population of United States grew by more than 33 million people, increasing demand for housing right alongside it.
Another factor adding fuel to the fire are interest rates. Earlier in the year our clients were able to get 30-year fixed rate mortgages in 2.75% range and based on the Freddie Mac's Primary Mortgage Rate survey you can get even better rates than that now.
2020 was a challenging year. The GDP declined by 2.7 percent, unemployment rate increased to 6.9 percent and as many as 21 percent of us worked from home. Based on the results of the NAR Forecast Summit, the economy is expected to grow by 3.5 percent in 2021 and unemployment should decrease to 6.2 percent. They are predicting that as many as 18 percent of people will continue working from home.
Due to the type of industries that dominate the Bay Area, the percentage of workers capable of telecommuting is even higher here than the US average. Large employers like Google, Facebook and Salesforce announced that they will continue their current work from home policies until the end of 2021. And even with some companies like Oracle and HP relocating their headquarters to Texas, there is no expectation of significant layoffs of their local workforce, at least in the near future.
Widespread work from home orders actually boosted housing market. The amount of space needed at home to arrange a comfortable work environment puts a new strain on our living arrangements. While it became more acceptable to have dogs, cats and toddlers barging into Zoom business meetings, we see more people looking for larger homes or starting home improvement projects to create private spaces for work and for distance learning.
In 2021 home appreciation is expected to slow down the forecasts range from 4.5% increase predicted by the National Association of Realtors to 2% by the Mortgage Bankers Association with Freddie and Fannie Mac in between at 2.6% and 2.1% respectively.
Interest rates are expected to increase in 2021 but not by much. The predictions go from 2.8% according to Fannie Mae and 2.89% according to Wells Fargo to 3.3 percent according to the Mortgage Bankers Association. The National Association of Realtors put their prediction right in the middle at 3.1%.
Based on national trends I believe that the Bay Area will likely follow suit with moderate price growth between 3% and 5%. As shelter-in-place orders are lifted and travel restrictions are removed, we expect a slight increase in housing inventory as people will feel safer putting their homes on the market, showing them to potential buyers and moving.
Before wrapping it up I want to talk about the elephant in the room – loan forbearance. At its peak back in May there were close to 4.8 million mortgages in the program. By the end of November the number of homeowners in active forbearance dropped to around 2.76 million, a decline of 2 million mortgages. To put these numbers in perspective, during the housing crisis 1.65 million homes went into foreclosure just in the first half of 2010.
Even if the current economic downturn continues, experts agree that it is more likely that the foreclosures will happen gradually, not forming a tsunami wave. Attom Data Solutions forecasts that 200,000 mortgages will fall into default in 2021, well below the levels we saw following 2008 bubble. According to NAR chief economist Lawrence Yun "any foreclosure increases will likely be quickly absorbed by the market. It will not lead to any price declines."
The current situation is fundamentally different from the housing crisis. After years of steady home value growth and tight lending standards most current homeowners can sell their homes to recover the equity they built over the years and avoid foreclosure. Also, banks are not positioned to aggressively pursue foreclosure and are adopting more cooperative approach working with delinquent borrowers. Most homeowners will be able to exit the forbearance by either paying off their past due amount in monthly payments or by restructuring their loans to attach these late payments to the end of their term.
Overall, we do not expect the market to shift all the way into buyers territory in 2021. More than 10 years of short supply, skyrocketing economic development and population growth has created a wave of unsatisfied demand that will carry the Bay Area market forward for years to come.
We work only with a small number of buyers and sellers at a time to be able to provide our five-star service. Call me or send me a text so we can start planning your next move together!