Bay Area Housing Market Update - No, It Is Not A Bubble [March 2021]
Posted by Michael Talis on Monday, March 8, 2021 at 11:25 AM
By Michael Talis / March 8, 2021
Comment
Real estate bubble!?!? Here in the Bay Area growing home prices are raising questions about new real estate bubble from residents waiting for market adjustments and lower home prices.
What is a bubble? According to Investopedia "a housing bubble, or real estate bubble, is a run-up in housing prices fueled by demand speculation and exuberant spending to the point of collapse".
Yes, the demand for housing is crazy high and prices were steadily growing until 2018. The median home sale price in Santa Clara and San Mateo counties increased by 144% since the bottom of the housing crash. Then the market had an adjustment in 2019. The home prices decreased by 4.8%.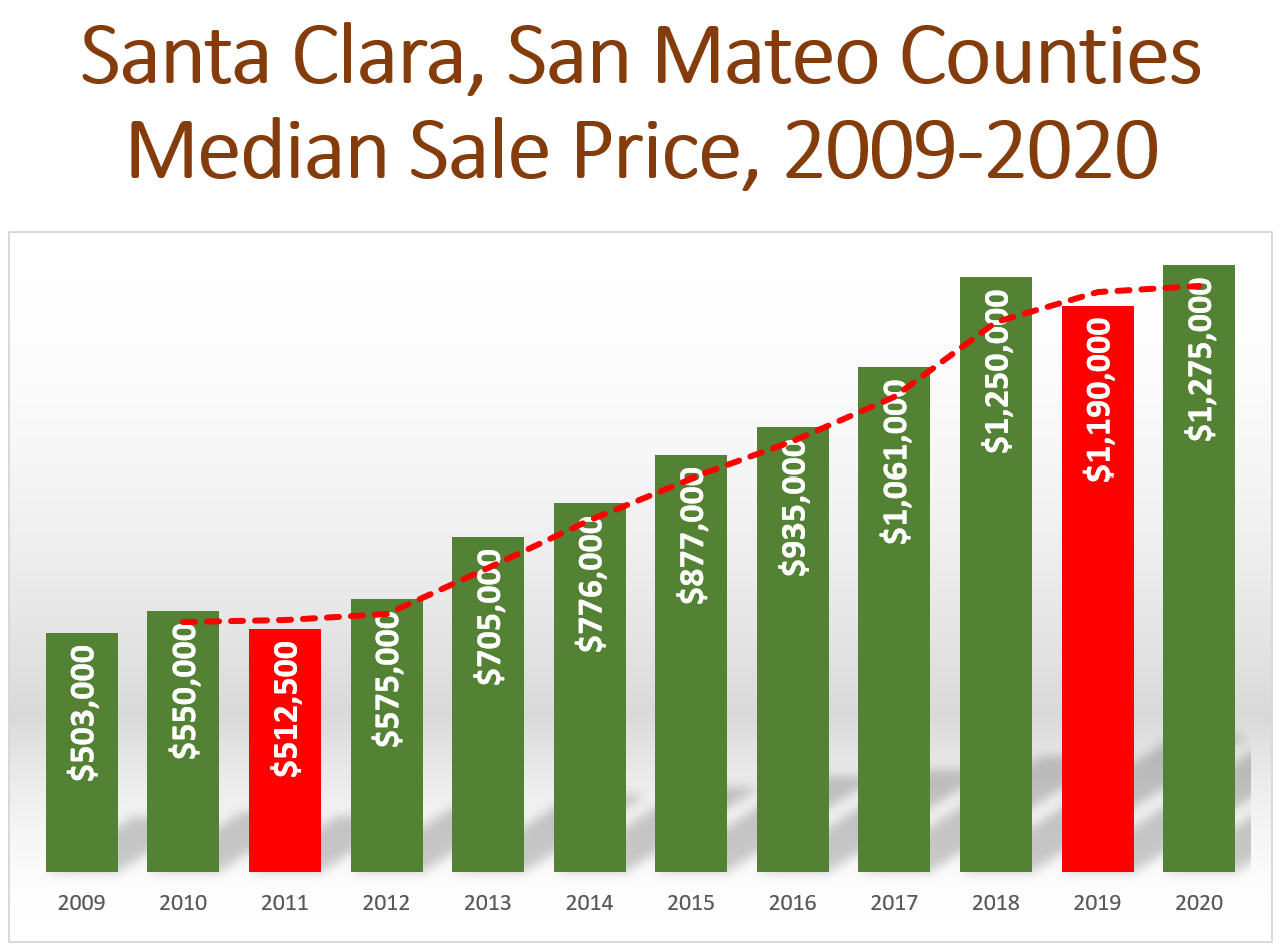 Despite the COVID-triggered lockdowns 2020 housing prices grew by 7.1% reaching a new price peak in most bay area neighborhoods. But not all cities performed the same.
Palo Alto median home sale price declined both in 2019 and 2020 ending up a whopping 6.8% below the 2018 peak. Mountain View prices grew in 2020 ending the year at exactly the level of 2018. Well, 500 dollars below the peak...
Sunnyvale home price declined by 5.7% in 2019 and then grew by 5.6% in 2020 ending at just 0.4% below the 2018 level. Santa Clara performed in a similar way ending last year 1.1% below the all-time high. Similarly, San Mateo finished 2020 1.4% below the peak and Redwood City 1.3% above the previous record. Menlo Park was an outlier with 9.1% growth in 2020 pushing prices to a new record at 5.1% above the 2018 level.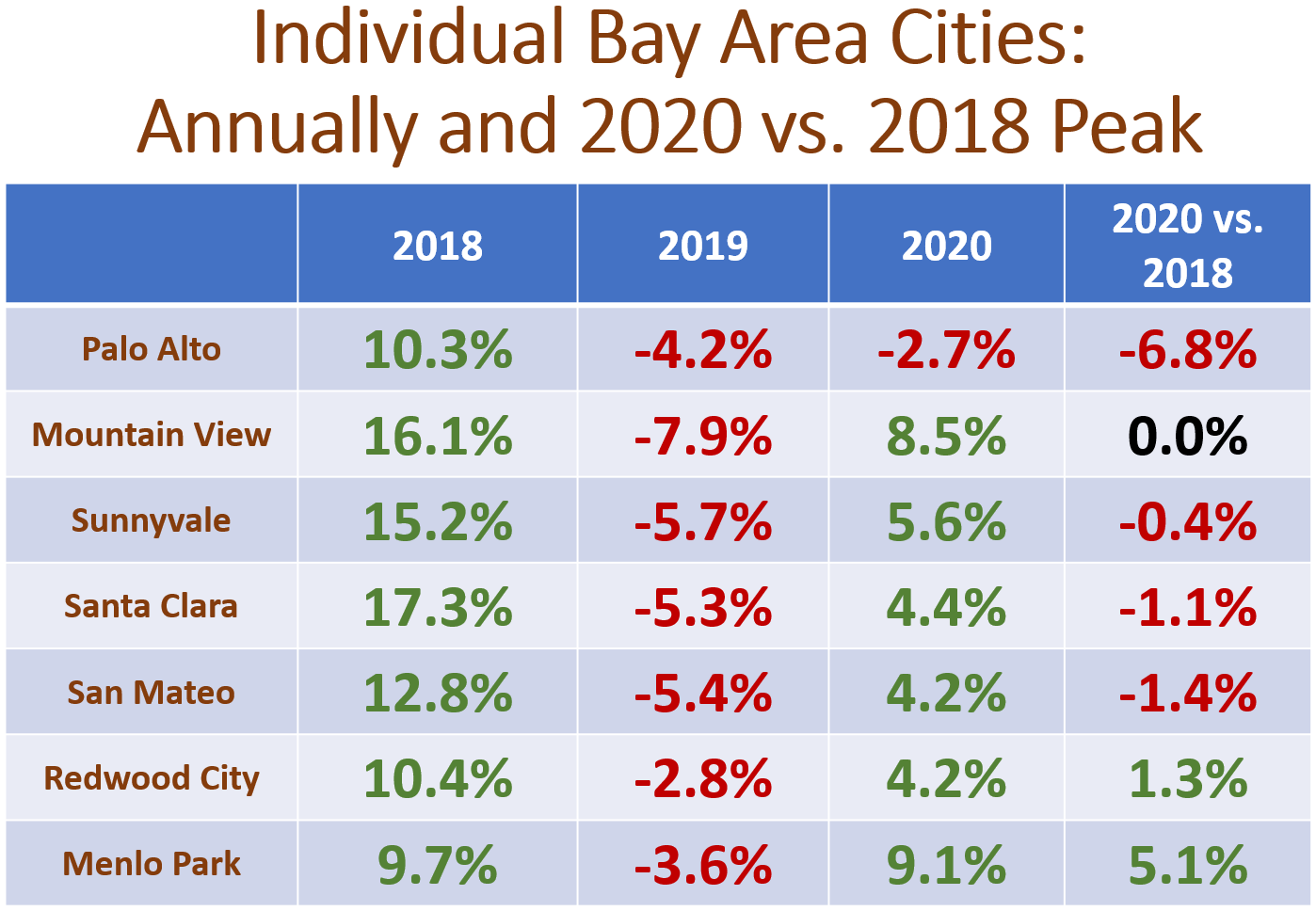 2020 price growth trends seem to be continuing into the 2021 selling season. February median home sale price increased by 8.1% compared to February of last year and by 2.8% compared to January of this year. High demand for housing is reflected by the fast pace of sales. Half of the homes that came to the market in February sold in 9 days or less, compare that with 11 days median time to sell earlier this year in January. For reference, just putting a home on the market, showing it for one weekend and setting it up for offers takes about a week at the minimum. There is not much time to cut out of this process.
Average time to sell also dropped from 29 days in February of 2020 to 25 days in February of this year. The number of new contracts, the number of accepted offers, jumped by more than 31% over February of last year and increased by 26.5% compared with January. The number of new listings, however, increased by only 16.6% year-over-year and 13.3% month-over-month.
But how do we know that it is not a bubble? Paraphrasing Alan Greenspan, how do we know that buyers "irrational exuberance" did not inflate real estate values to unsustainable levels? At this point we don't have any indications of that.
The best protection against fire sales triggering a collapse of home prices is owner's equity. According to data provided by Property Radar, in Santa Clara and San Mateo counties 81.8% of homeowners have 50% or higher equity in their homes. Out of that number 17.7% of homeowners own their homes free and clear. Only 1.1% of the owners have less than 10% equity in their homes.
At the same time 82.3% of single-family homes, condos and townhomes are owner-occupied. Out of the homes that are currently listed for sale the percentage of owner occupied homes is slightly lower - 81.2%, just 1.1% difference.
Even if the lockdown will continue and some homeowners will not be able to exit the forbearance programs without selling, the amount of equity available to them will prevent a tsunami of foreclosures that flooded the housing market in mid-2000s.
Stringent lending standards enacted at the onset of the housing crisis ensured that only well-qualified borrowers were able to obtain loans and provided another layer of protection against risk of default. Combination of high, constantly unsatisfied demand for housing, staggering amount of home equity available to owners, and high lending standards are preventing the market from entering into bubble territory. No, no bubbles!!!
We work only with a small number of buyers and sellers at a time to be able to provide our 5-star service. Call me or send me a text so we can start planning your next move together!