Bay Area Housing Market Update Halfway Through 2021
Posted by Michael Talis on Monday, July 19, 2021 at 10:02 AM
By Michael Talis / July 19, 2021
Comment
When you read articles about the Bay Area housing market, they would use some gobbledygook numbers and tell you that the market is overheating and that it will crash in no time. But what do these numbers really mean to you in practical terms if you are trying to buy or sell a home, if it is the right time for you to make a move?
Let me give you 5 vital housing market statistics halfway through 2021 and share what they mean to you as a buyer or as a seller.
Follow my logic and tell me in the comments if you agree or if you are coming to a different conclusion.
This is Michael Talis with the Talis Team. We work here in Santa Clara and San Mateo Counties helping people to buy, sell and invest in real estate.
New listings are up by 29% from June of 2020 and 32% higher compared with June of 2019
Because 2020 was such an unusual year, we need to look 2 years back, back to 2019, the last full "normal" year before the onset of COVID-19.
What we see that the number of new listings is significantly higher than in the previous years. Typical seasonal trends got scrambled by the pandemic and by the lockdowns. In pre-pandemic years, June listing activity would see a significant drop from the spring months. Not this year! There was 6% more listings in June compares with May of this year. For comparison, there was a 24% drop in June compared with May of 2019, in 2018 the drop was 11%.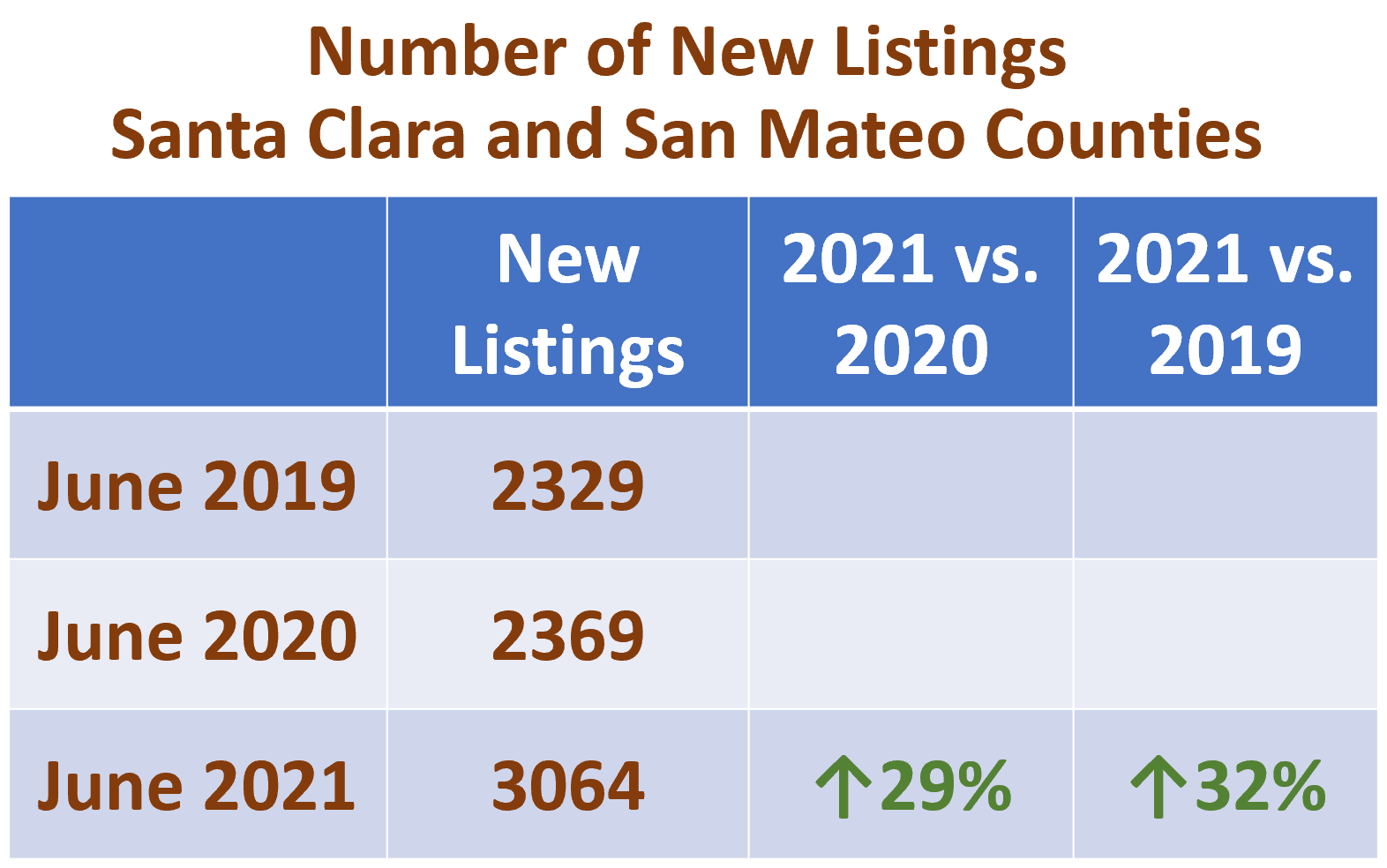 If you are a seller thinking about putting your house on the market, you will have more competition. Your house has to be properly prepared and marketed in order to stand out and sell ahead of the competition.
If you are a buyer – you have more opportunities than in recent years. It does not mean that there is no competition from other buyers. We are still in a strong seller's market, you have to closely watch the new listing and react fast in order to find the right home.
Median time on the market – it is how long it take for half of the new listings to sell. Since March of this year the median days to sell stayed at 8 days, the fastest pace of sales on record.
If you are a buyer – you need to be prepared to act fast when you see homes being listed and be decisive. The market presents new opportunities daily. Go see the newly listed home as soon as possible to give yourself more time to investigate the property, come back for a second look, get your questions answered and prepare to make an offer.
Here is a tip – watch for homes that area staying on the market a bit longer than usual. It may be possible to buy these homes avoiding the multiple offers and negotiate with the sellers one-on-one. But it is a subject for a different video.
If you are a seller – make sure that your home, and you, are 100% ready for the market when you list your home. First few days on the market are critical for the success of the sale – that is when your home will get the attention from the best-qualified and most committed buyers. That was proven true on every one of our listings. You need to take advantage of the first impression your home will make to sell it at the highest possible price.
Average overbid, or sale price to list price ratio. The average overbid was rising this year starting at 2.3% in January and reaching 8.4% in June. Just for comparison, June 2019 verbid was only 2.4%.
If you are a seller – factor the expected overbid into your listing price. When buyers think about what price to offer, they often add 5-8-10% to the list price. Based on your sale price expectations and current market conditions, set the listing price to attract the largest number of buyers. Make the asking price a part of your sale strategy.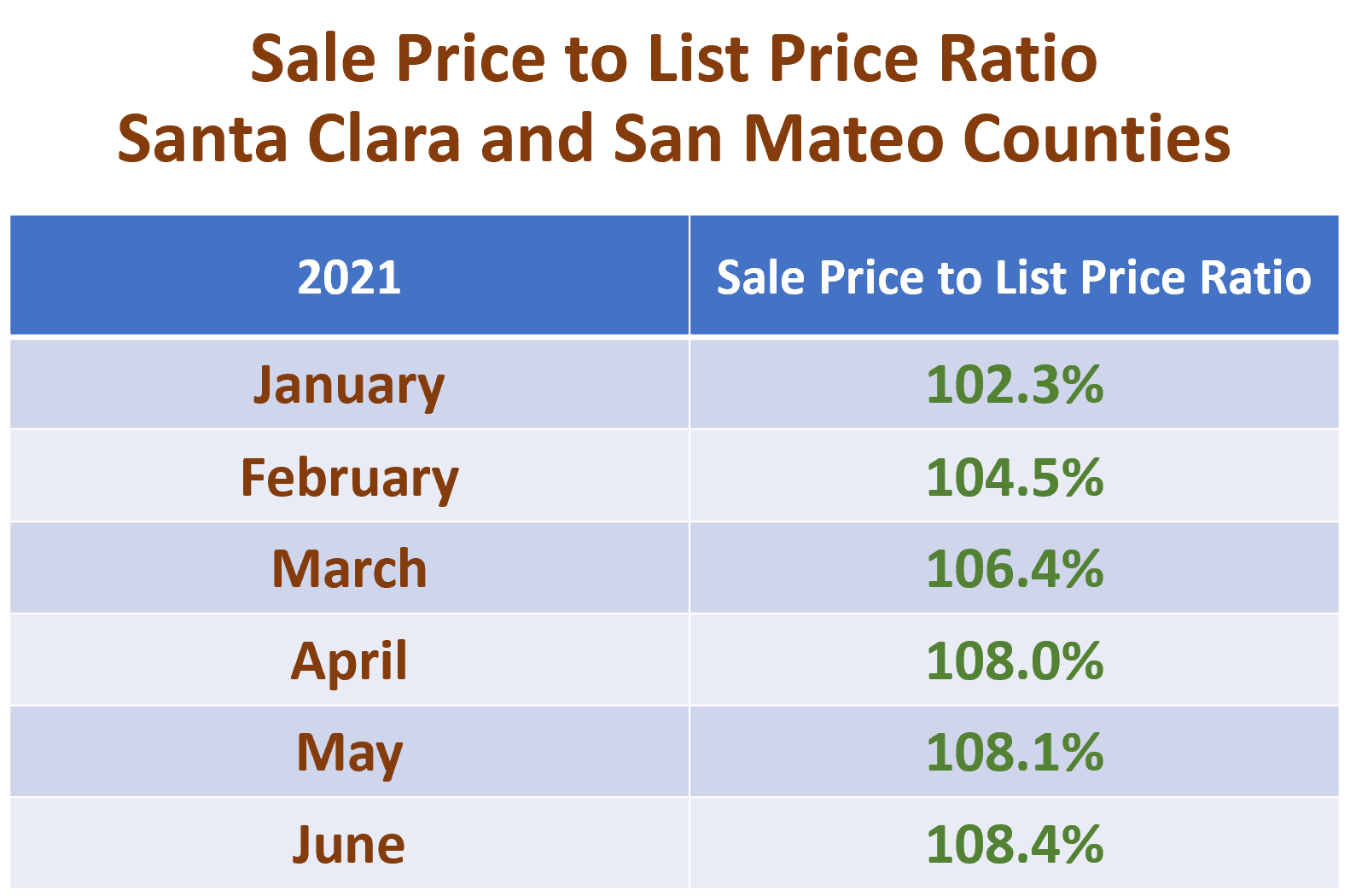 For the buyers – the listing price is just the beginning point for the negotiations. Very rarely a home would sell at exactly the listing price. Look at the price of similar homes recently sold in the neighborhood and be ready to offer a fair price. Your realtor should help you analyze the data and come up with the winning strategy.
Median home sale price in June of this year reached $1,489,000 in Santa Clara and San Mateo counties. It is an 18% increase over June of 2020 prices and a 19% increase over the 2019 levels.
If you are a seller – now is the best time EVER to sell you Bay Area home. Sale prices are at all-time high and the demand for housing is unbelievably strong. Make sure that it is the right time for you to sell from your life priorities point of view, you know where you are moving and you understand tax consequences of the sale, both the property and the capital gain taxes.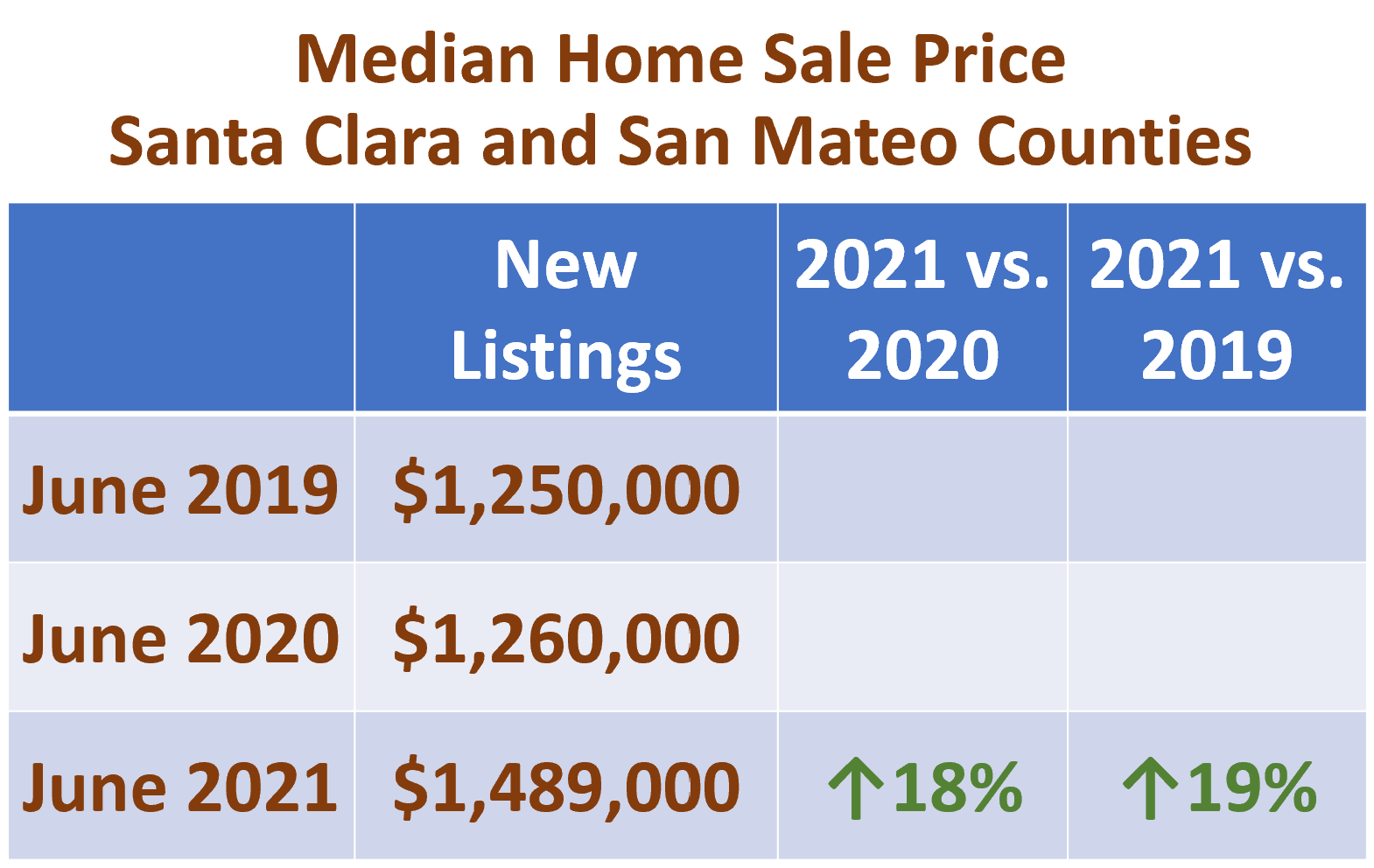 If you are a buyer, don't get discouraged and don't wait for the market to shift. Same as with the sellers, it has to be the right time for you to buy a home. Do not hesitate to purchase a home if you are planning to own it for 10 or more years. Assuming the housing market will continue to grow like it was growing over the last 30-40 years, longer hold time will eliminate any risks of you buying at the peak. Keep in mind that the Peninsula cities are land locked and there are few opportunities for new housing development in the most desirable areas.
And finally, almost $5.2B worth of homes changed hands in Santa Clara and San Mateo counties in June of 2021. It is the highest sale volume on record for any month in the history of the Bay Area real estate. It is a reflection of strength of our local economy. The latest herd of unicorn IPOs created a new crop of millionaires who will invest into their own startups continuing the endless cycle of growth and innovation Bay Area is known for.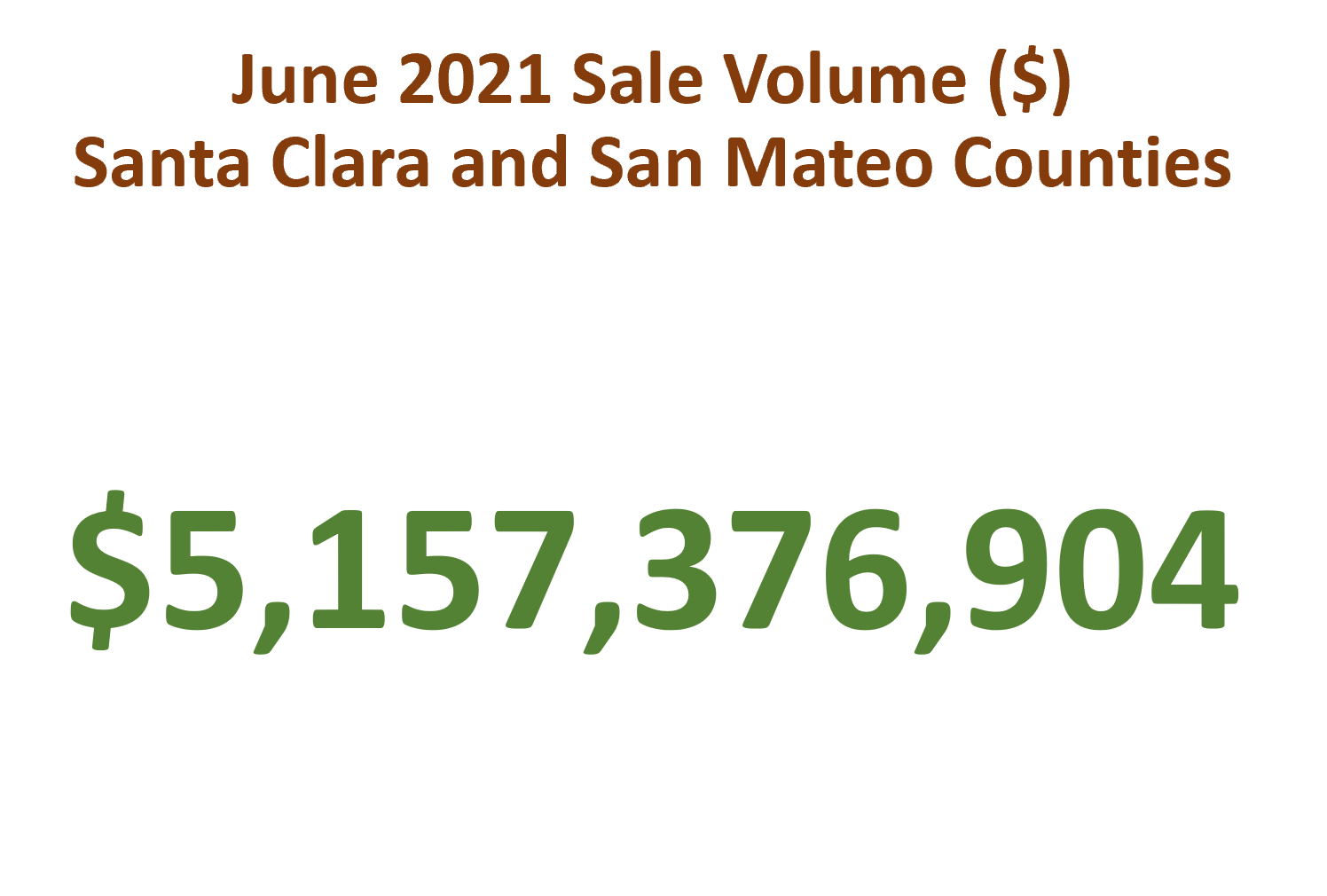 It also confirms that the historical seasonal trends are still scrambled. June, the month that is typically reserved for graduations and the beginning of a vacation season, this year was the most active month year with the highest number of new listings, highest number of closed sales, the shortest time on the market, highest average overbid and the highest home sale prices so far this year.
This is Michael Talis with the Talis Team. We work only with a small number of buyers and sellers at a time to be able to provide our 5-star service. Call, text or email me so we can start planning your next move together!