Bay Area Housing Market Sets a New Price Record!!! [April 2021]
Posted by Michael Talis on Tuesday, April 6, 2021 at 5:49 PM
By Michael Talis / April 6, 2021
Comment
March is over and Bay Area 2021 real estate spring selling season is in full swing. The market is scorching hot, I don't think we've ever seen such a strong seller's market!! Homes are selling fast, with multiple offers, and non-contingent offers are commonplace.
Let me give you an example. One evening we noticed a home that just came to the market. We talked to our clients and they wanted to see the home. So first thing in the morning we called the sellers to schedule an appointment, and to our surprise the sellers already received three cash offers. This homes sold in less than 12 hours with three cash offers!
And media pours gas on the fire. I noticed this story on multiple websites and then, when I tried to share this story with my daughter, she told me that she already heard it on the radio. Berkeley home sells for $1 million over asking after getting 29 offers. You'll be surprised but these type of stories are more common than you think. If someone would list a home significantly below the expected market value, it will generate a bidding frenzy and this bidding frenzy will drive the prices up, sometimes way above the seller's expectations.
Now let's look at the numbers, first of all new listings. Because 2020 was such an unusual year in order to make sense of current numbers we need to look back at both 2020 and 2019. This year there was 56 percent more listings than in march of 2020 and 26 percent more than in march of 2019.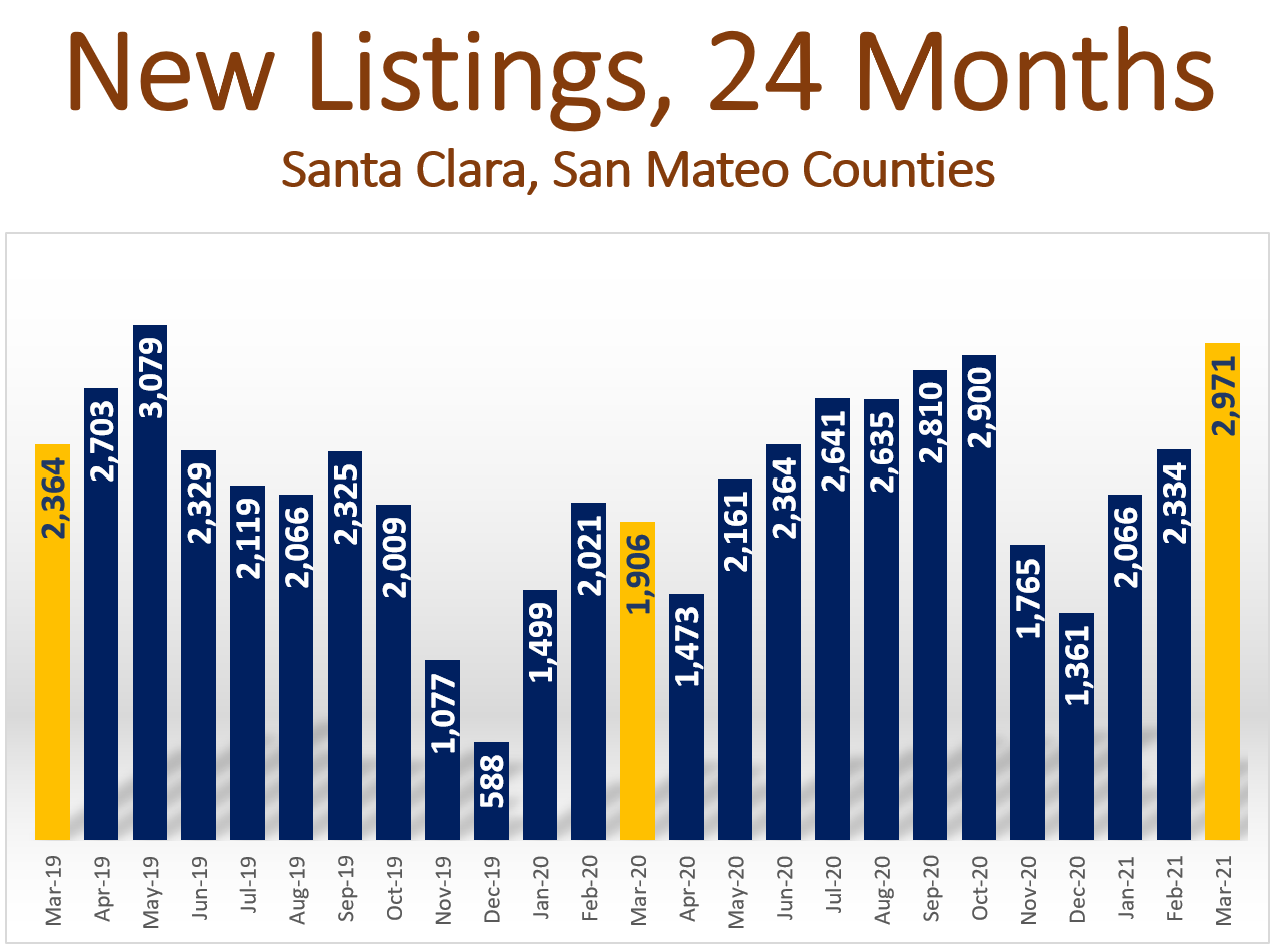 What happened? The onset of pandemic stopped the industry in its tracks. We actually had a listing on the market in March of 2020 and the owners asked us to take it off the market. They ended up re-listing it in June and we sold it in June. It took industry two to three months to figure out how to conduct sales safely in this environment and the activity resumed. Most of the sales activity in 2020 happened in second half of the year and this tidal wave of sales continued into 2021.
The number of new contracts followed the same pattern. There was a 109 percent increase in the number of new ratified contracts this year over 2020 and 40 percent increase over march of 2019.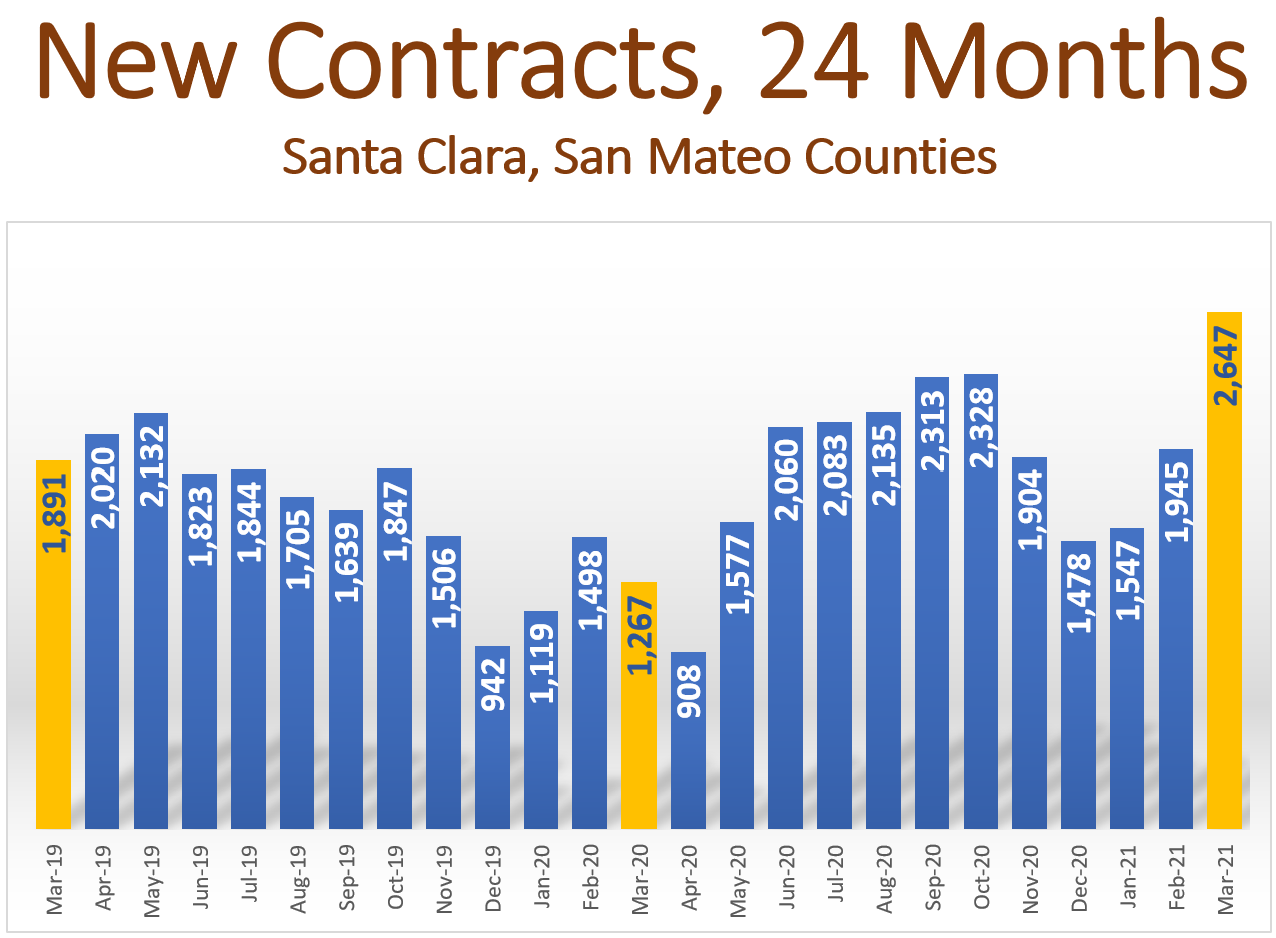 More than 2000 homes change hands in March of this year, a 42 percent increase over 2020 and 28 percent increase over 2019.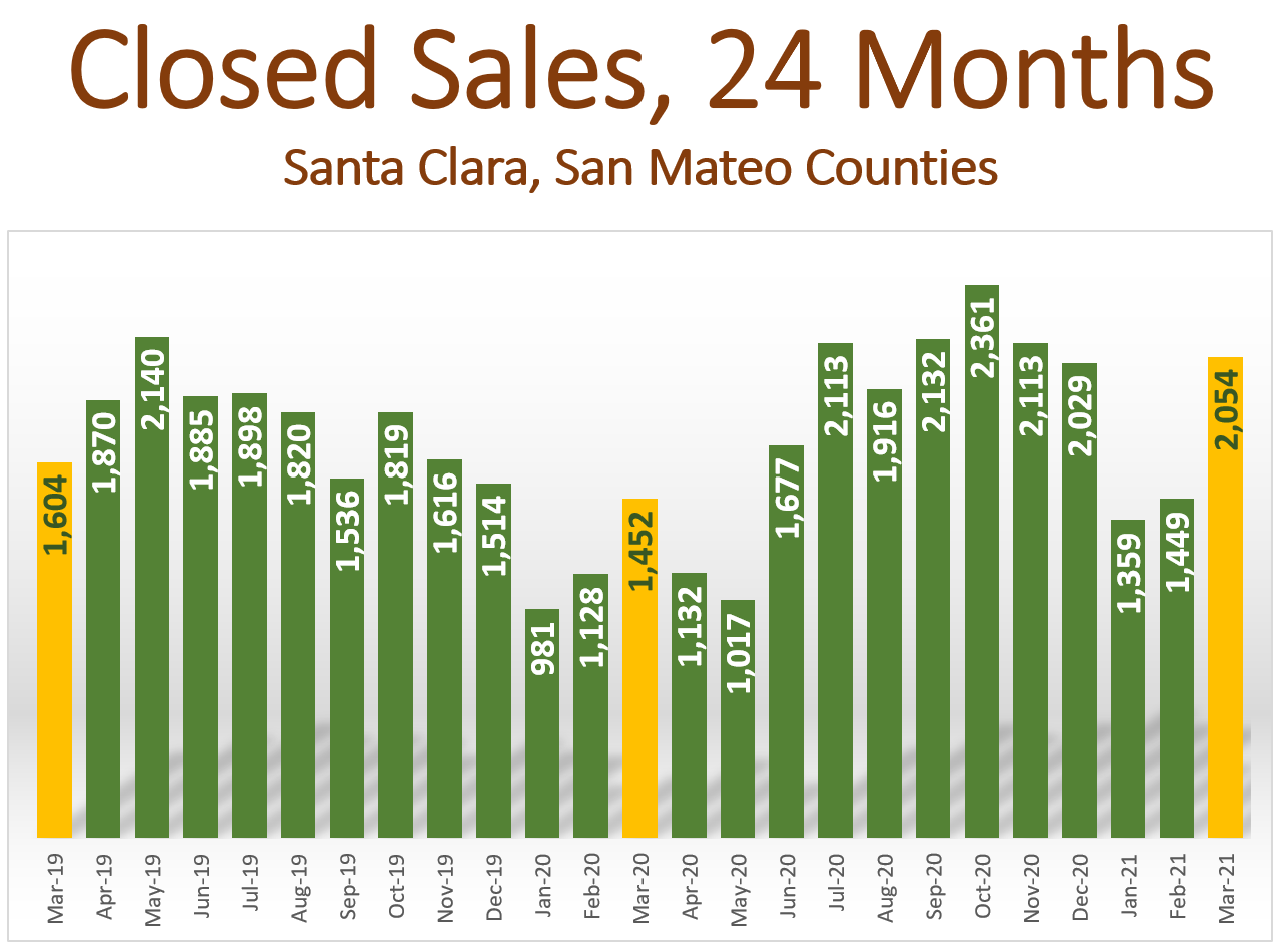 Despite the increased number of new listings, sales prices continued to grow. Santa Clara and San Mateo counties median home sale price reached $1,382,000, a new record. It was a 7 percent increase over 2020 levels and a 17 percent increase above march of 2019. Keep in mind that previous home sale price record was reached back in May of 2018.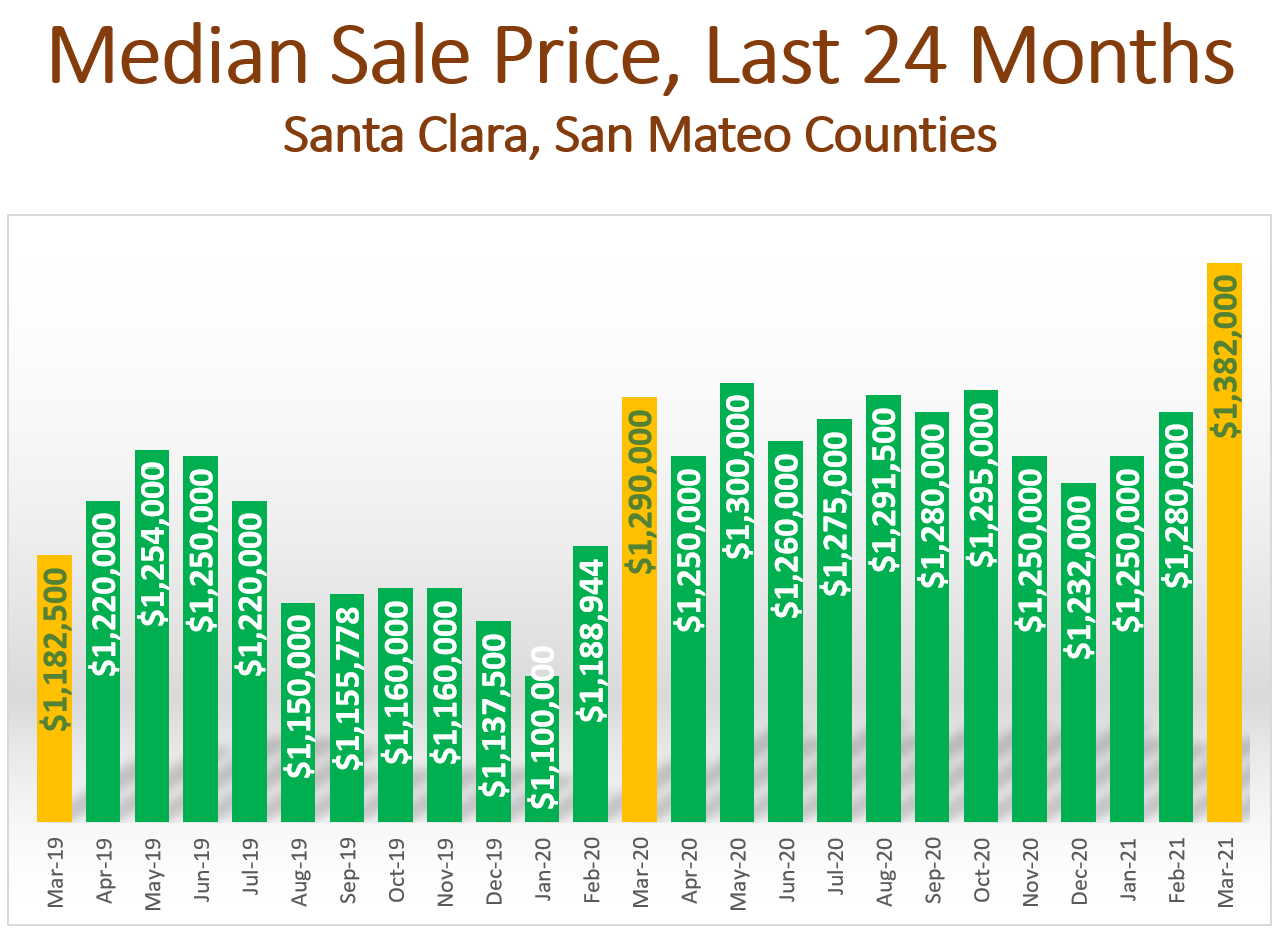 Also despite the number of new listings, the median time on the market dropped to eight days in March, down from nine days in February. What that means that half of the homes that came to the market were sold in eight days or less.
And again, despite the increase in the number of new listings, the inventory at the end of march dropped to 1.1 months, down from 1.4 months and the end of February. All new homes that came to the market sold!
This price growth pattern combined with shortage of inventory is not unique to the Bay Area. Nationally at the end of March home sale prices jumped by 17 according to Inman News, a real estate industry news site. And while some of our clients are waiting for the market downturn in order to go shopping for homes, we don't see current trends reversing themselves, at least not yet.
So what drives this red-hot real estate market? A simple answer is that demand is outpacing the supply. First, the supply is limited. Most of the Bay Area cities are landlocked, we have bay on one side, mountains on another side, and cities are stacked right next to each other. There are very few opportunities for new housing development and employment was growing much faster than available new housing.
And the demand is still growing. We all saw some articles about more people moving out of California than back into the state, but that's not our experience. Every day we talk to people who are coming here to the Bay Area for jobs - high tech, biotech, medical, and even accountants. Just today, right before filming this video, I talked to two people. One of them is expecting a job offer from a local company here in the Bay Area in Redwood City and another moved out of the Bay Area at the onset of COVID. They were working for a Bay Area company all along and now they are looking for a place to stay when they are coming back when their office is reopens.
We work only with a small number of buyers and sellers at a time to be able to provide our five-star service. Call me, or send me a text so we can start planning your next move together!